Dear Seattle: I'm Over Voting for Whites. Stop Forgetting Communities of Color.
Why I won't be voting for either one of the cis white woman candidates in the 2017 Seattle mayoral election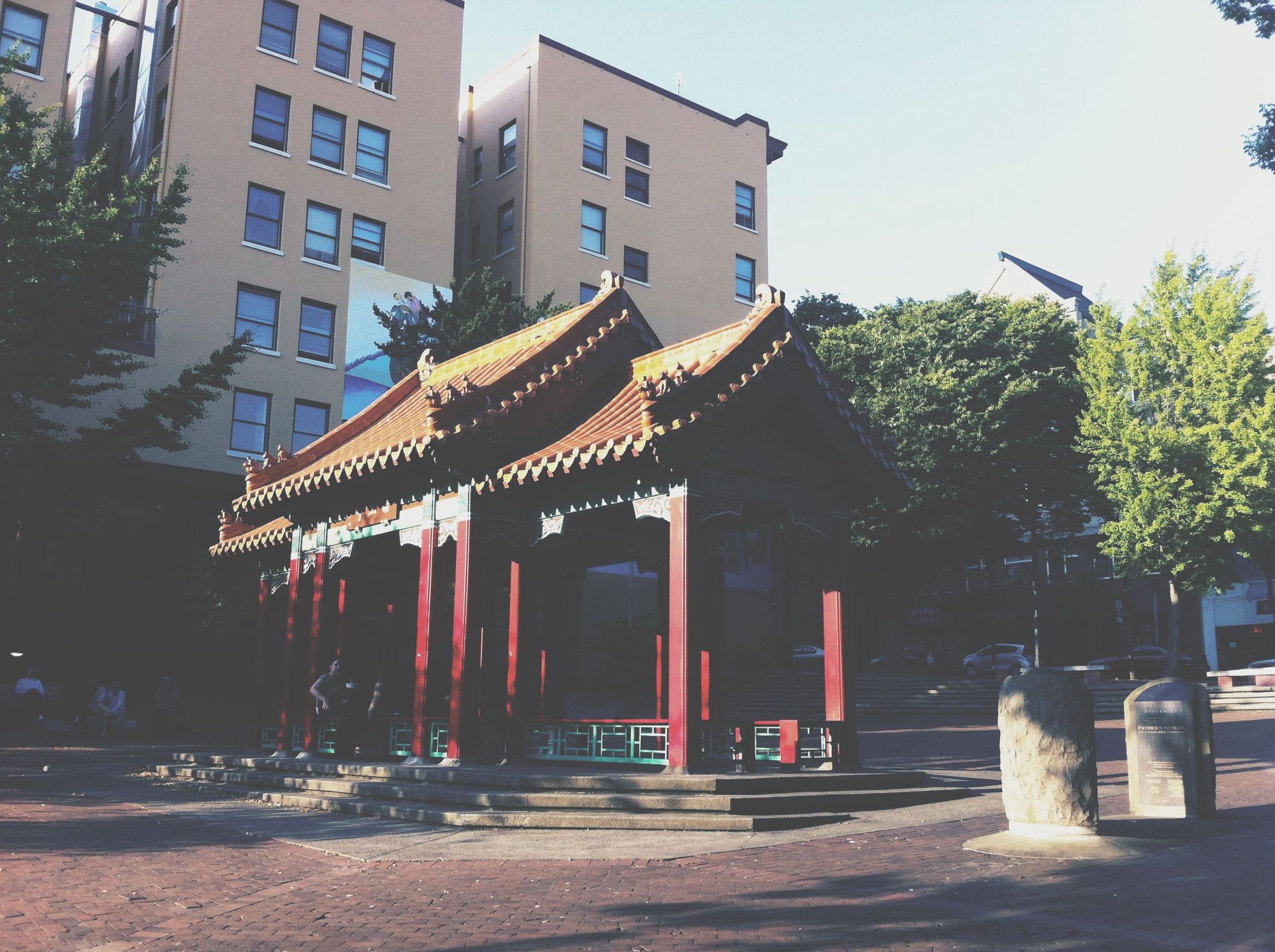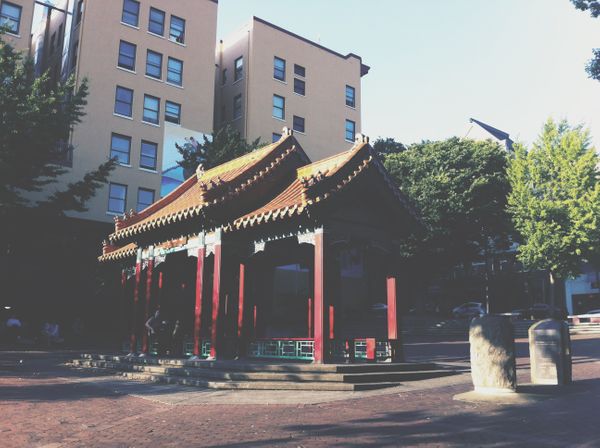 words by Lani Smith
photography by 水仙 SHUIXIAN
above image description: photograph of a pagoda in Hing Hay Park in Seattle International District/Chinatown, taken by 水仙 SHUIXIAN
As I sit down to write this, the mayoral election in Seattle is beginning to wind down to election day. On the ballot this time around is Jenny Durkan, a white woman who happens to be gay, and Cary Moon, a white woman who's a leftist pseudo-hippie. Other than the gender of the candidates, it's very similar to the choice I was left with in the last mayoral campaign, in 2013: Ed Murray, a white man who happened to be gay, and Mike McGinn, a white man who's a leftist pseudo-hippie.
Spoiler Alert: I didn't vote for either candidate then, which horrified me to no end; I was raised to understand that voting was my most patriotic duty, that it was the best way to make my voice heard in our society (I was raised in that innocent era before widespread internet access and social media accounts). Well, in 2013, I used the absence of my voice to make my statement: that neither candidate spoke for me or represented my interests.
Spoiler Alert #2: I'll probably do the same this year, for the same reasons.
Here's the story behind one of my biggest reasons why.
My parents are part of a group of longtime friends and associates who have affectionately come to refer to themselves as the "ID Lunchee Bunch." They came of age in the International District/Chinatown in the days before gentrification, Vulcan, and high draw sports stadiums. These were the days when Seattle's Asian community was criminally underserved by the city, especially when it came to emergency services and aiding those with limited English. It was into this void that Donnie Chin chose to step under the call sign "Dragon One," and along with his best friend Dean Wong ("Dragon Two"), founded the International District Emergency Center, better known as IDEC.
For as long as I can remember, IDEC has been a staple of Asian community events in and around the International District. If you've ever been to Dragonfest (formerly ID Summerfest) or Bon Odori, you've likely seen them set up under a pop-up tent, waiting in their khaki outfits with bright red patches and radios. My dad is one of the volunteers in khaki, providing first aid and logistical assistance for large events. I grew up with him and Donnie and the other IDEC volunteers, some of whom are part of my nebulous cloud of "aunties" and "uncles" who exist beyond my immediate family. They are the ones I know who will help when there's trouble, and no one embodied this more than Donnie.
A lot has been written about Donnie, especially over the past two years, so here's a quick summation: Donnie's role at IDEC was far more expansive than anyone else's, largely because it was simply who Donnie was. He patrolled the ID day and night; he was first on the scene every time there was an emergency, before either the police or the paramedics showed up; he was the neighborhood's eyes and ears for what happened on a day-to-day basis. He did this because the city didn't, and although he developed a good working relationship with the city's first responders, he was never supplanted by them.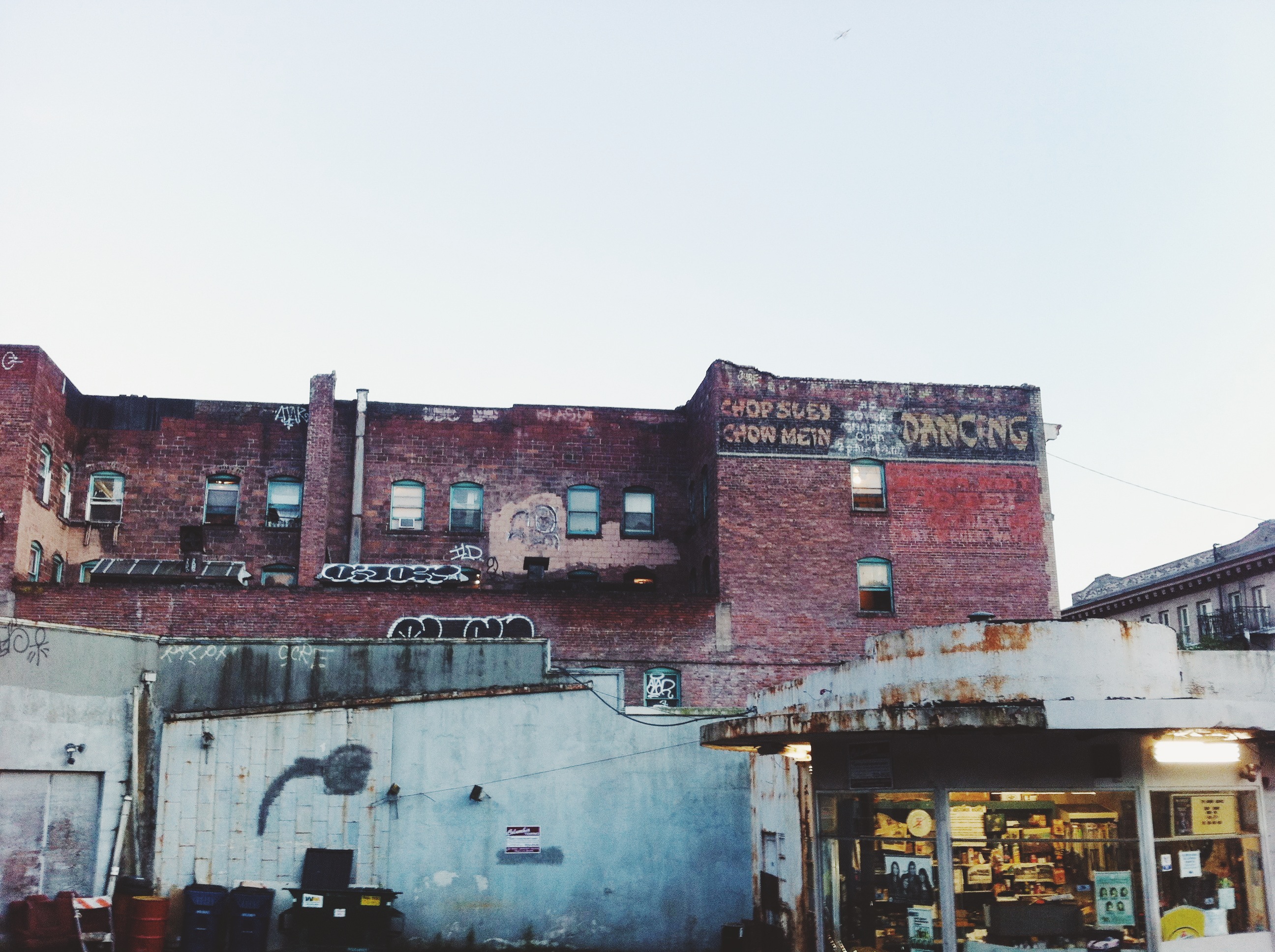 above image description: photograph of some old buildings in Seattle International District/Chinatown, taken by 海水仙 hai shuixian
On July 23rd, 2015, my mom called to tell me "before I had to see it on the news": Donnie had been shot early that morning. He was dead.
Those first days after Donnie died were a blur of tears, vigils, hugs, and promises from city leaders to find who was responsible, followed by pleas from the community Donnie had served to pick up where he left off.
Within a few weeks, Mayor Murray announced a ban on hookah lounges, citing Donnie's death as the impetus for doing so, as he had been shot a block away from one. Other than a handful of community meetings with the police to discuss the progress on Donnie's case and the renaming of the International Children's Park in Donnie's honor, this is all that's been done by the city. Services were not expanded. IDEC continues the mission Donnie started, but its volunteers can't be everywhere all the time in the same way Donnie was. His presence as a mentor to generations of kids, supporting them and keeping them out of trouble, is gone, with no one else to carry on the work.
What infuriated me most was how proud Mayor Murray seemed to be of his plan to close all the hookah lounges in the city, which was largely decried as unnecessary and racist—which it was. Close down the "source" of the crime, stop the crime, right? Except that it didn't address the need the community continued to call for: better services for a neighborhood long neglected by Seattle's legacy of racism and white elitism.
In fact, for many of the city's neighborhoods that are historically populated by people of color, this is a call that has largely gone ignored until that neighborhood gentrifies. I've seen it in the Central District, Beacon Hill, and Columbia City; Hillman City is beginning to experience it now, and it won't be long before even Rainier Beach finally gets what it needs, long after the people who asked for it are gone.
I have a hard time going to the ID now. I pass by Canton Alley, catch a glimpse of the shrine set up there in Donnie's honor, and have to hurry by for fear I'll start to cry. There is a deep, persistent ache in my chest being there without him, knowing I won't randomly turn a corner and find him there. He had a special smile for us, for his "kids," the ones he watched and helped raise. We are the next generation, and his smile always conveyed a sense that he knew we'd go on to do great things and make our community better.
I haven't figured out exactly how to do that yet, but I know it doesn't start with mayors who in no way represent the Seattle in which I live.
It starts with people like Donnie, it continues with people like my dad and my aunties and uncles at IDEC. It continues with me and the rest of Donnie's kids. But one day, it has to end. Disadvantaged communities cannot perpetually "pull themselves up by their bootstraps" when those with privilege have no need to.
This is why, as I look at my options, neither Durkan nor Moon inspires any confidence in me. They've paid lip service to issues like police reform, homelessness, and affordable housing. But none of this has really been done with communities of color in mind. They court the companies and demographics that have furthered the services gap, without truly considering the impact of their actions. Where do people go when Yesler Terrace becomes another expensive high-rise? How does that old auntie afford her rent when a new development crops up next door? How do I feel safe in a neighborhood that used to feel like home when I can't trust the institution of the police?
I have yet to see any meaningful answers or plans from either candidate, so I won't be voting for either.
I will, however, be thinking of what I can do to keep Donnie's mission going.
---
Header Image Description: A pagoda surrounded by trees in Hing Hay Park, in front of some apartment buildings in Seattle International District/Chinatown.
The photography in this post was taken by 水仙 SHUIXIAN.
If you enjoyed this post, please support our work and follow us on Twitter.