Explaining suicidism: the systemic oppression of Suicidal People
How the system of oppression named by Alexandre Baril structures the unjust way suicidal people are treated, and what we can do instead.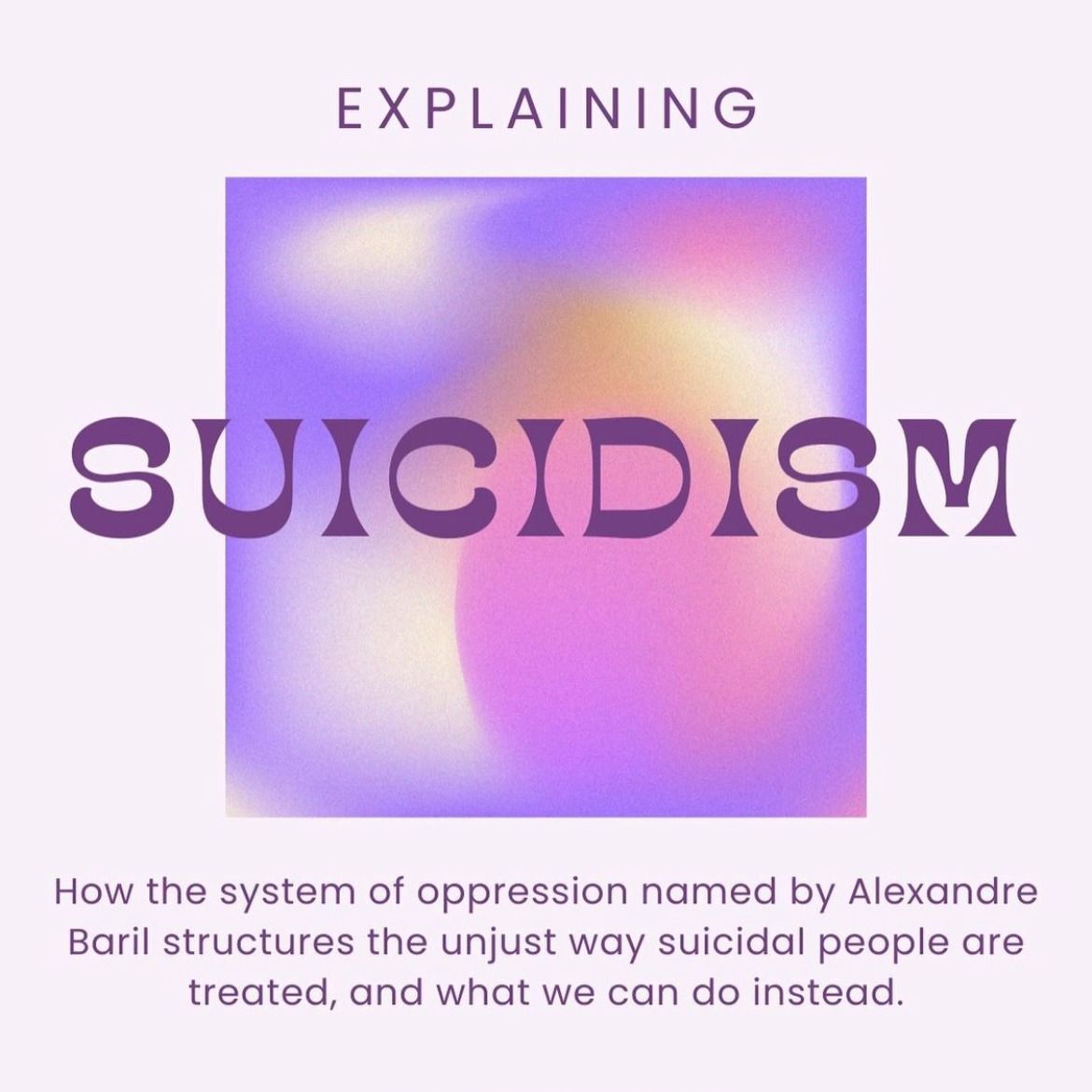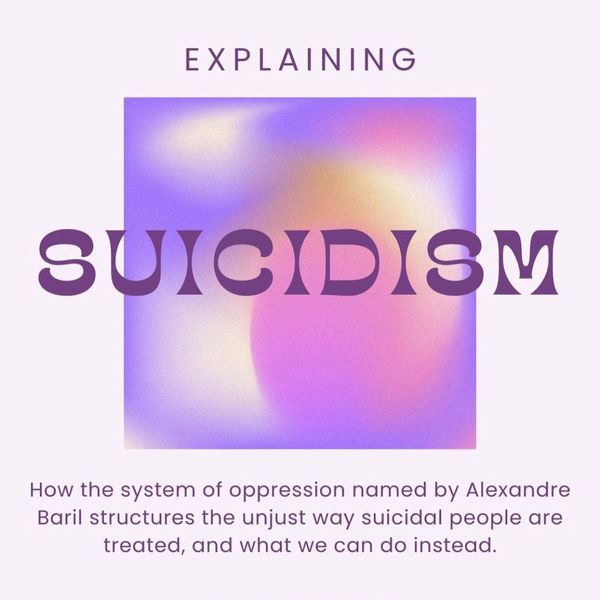 How the system of oppression named by Alexandre Baril structures the unjust way suicidal people are treated, and what we can do instead.
---
Content:
Saneism (a form of ableism – learn more about it here!).
Discussion of responses to suicidality.
Police violence mentioned, without details, in the Ending Notes.
There are no explicit descriptions of suicidal ideation or suicidal actions.
---
Preface, by 水仙 shuixian:
Alexandre Baril is a white trans Canadian human, and an Associate Professor in the School of Social Work at the University of Ottawa.
"He was hired to conduct research on intersectionality and diversity, including sexual, gender (trans), bodily (disability), and linguistic diversity. This appointment was a historic moment for trans people and trans studies in Canada. Baril was the first Francophone trans person in Canadian history to be employed as a professor specializing in trans studies to teach on sexual and gender diversity in French." — (English-language Wikipedia)
I am so, so grateful that mariela (she/her, @mercifullymad) was willing to let me share her summary of Alexandre Baril's new theoretical framework, Suicidism, here.
I believe that it is especially important to publish because the original text is very long, which may not be accessible to a large number of readers, and this summary helps enable Baril's ideas to be more widely known.
End Preface, by 水仙 shuixian.
---
Read on for mariela's post.
---
Content:
Saneism (a form of ableism).
Discussion of responses to suicidality.
There are no explicit descriptions of suicidal ideation or suicidal actions.
"While this content warning is for fellow suicidal people, I hope you're able to read this post at some point, because you deserve the words and terms to explain your experiences." — mariela
---
Explaining suicidism:
How the system of oppression named by Alexandre Baril structures the unjust way suicidal people are treated, and what we can do instead.
---
What is suicidism?
In short, suicidism is the oppression of suicidal people. It structures and naturalizes the violent way suicidal people are treated.
⠀
Baril calls suicidism a ghost haunting our theorizations of suicide: it is "ubiquitous and pervasive, but simultaneously never fully visible, named or recognized."
Suicidism is never named by any major model of suicide (the medical/psychiatric model, the social model, or the biopsychosocial model). Even purportedly anti-oppressive models of suicide, such as the social model, do not acknowledge suicidism. This is a major gap in our thinking about and responses to suicidality.
What does suicidism look like?
Suicidist violence includes forced institutionalization, revoked parenting rights, exclusion from insurance coverage, termination of employment, expulsion from universities, removal of agency, social and relational abandonment, an unequal power relation between suicidal and non-suicidal people, and structural silencing of suicidal people's voices.
⠀
Baril writes, "Suicidist violence is pernicious in the way it is taken up by anti-oppressive activists and scholars within discourses of protecting vulnerable people from themselves. In that sense, suicidism is deeply intertwined with ableism and saneism [..] because it mobilizes arguments about 'mental stability/capacity' to revoke people's voices and agency."
Why is suicidism bad?
If you're new to anti-oppressive mental health approaches, you might read the suicidist measures on the previous section and think, "It's unfortunate, but these measures are necessary to save someone's life, so they have to be done."
A few points to address here:
1. Suicidist suicide-prevention tactics are not working.
Studies show that suicidist measures such as forced institutionalization actually increase someone's risk of dying by suicide.
Studies also show that the majority of suicidal people do not reach out for help precisely because they fear the suicidist violence they're likely to experience if others know they're suicidal, forcing them to both live and die in secrecy.
Critiquing suicidism is crucial to creating "more respectful and effective [suicide] prevention strategies" (Baril).
2. Suicidism "forces us into an unaccountable and uncompassionate approach to suicidality" (Baril).
Suicidism is not just ineffective, but also cruel.
Suicidism forces suicidal people into a life of silence and secrecy through the threat of violence.
It prevents them from speaking about their feelings or finding a supportive community.
It categorically forces all deaths by suicide to be violent and solitary.
No one deserves to live or die in this manner.
3. Suicidism keeps suicidal people from recognizing their own oppression and from being recognized as valid knowers.
Because suicidism silences and isolates suicidal people, as well as excludes them from knowledge-making spheres, it stops them from identifying their silencing and violent treatment as a system of oppression.
4. The idea that people should have their lives extended against their will is not a neutral, ahistorical, or universal value.
(A more complex answer—please read Baril's full article to understand these concepts.)
Ableism and saneism structure who lives and dies.
There is a massive injustice in governments structurally abandoning Disabled and chronically ill people, forcing them into early deaths, but then forcefully extending the lives of able-bodied Mad people.
This mostly has to do with whether you are seen as a recoverable "productive" capitalist citizen, where "productive" just means "physically able to work".
The idea that able-bodied Mad people should be prevented from dying "before their time" is structured by what Baril calls "the injunction to live and to futurity," part of a suicidist system that forces a "compulsory liveness" onto its subjects.
---
Resisting suicidism
So you're on board with the idea that suicidism is ineffective, cruel, and unjust (at least, let me pretend you are).
What now?
How do we resist suicidism?
How can we best care for each other?
What systems of care can we build in suicidism's place?
First, recognize that people have been resisting suicidism and creating alternatives for a long time.
We don't need to start building alternatives to suicidism from scratch—there are so many resources available, from "Alternatives to Suicide" peer support groups, anti-carceral warmlines, and peer respites.
I have a "safe resources" highlight of existing anti-carceral alternatives to suicidism.
(Although it's important to note that carcerality is only one aspect of suicidism.)
Second, realize that resisting suicidism includes small actions.
We have fostered a culture where some experiences, like suicidality, are seen as "too complex" to be discussed with anyone other than trained professionals. Although it can help to have (anti-suicidist) training, it doesn't mean you're powerless to help yourself or others if you're not professionally trained.
Sometimes, helping someone out of a suicidal crisis is as simple as listening to them speak freely, providing a warm meal, or letting them sleep on your couch until they're safe enough to be alone.
We can remind people that they're loved, demonstrate our care for them, and refuse to participate in the systemic abandonment of suicidal people in difficult moments.
Often, it is human connection and gentleness that people in crises require most.
Finally, we need to build more safe spaces for suicidal people to talk about their feelings without material judgments or consequences.
To build these spaces, we have to recogize and resist suicidism, because "Without the recognition of an oppression, a safer space is moot" (Baril).
---
End Note:
I strongly urge anyone who has read this full post to read Baril's article in its entirety.
I have oversimplified the very complex systems of oppression he identifies and solutions he proposes, as well as purposely left out some of his proposals — some things are simply too nuanced to be properly discussed in this article.
I hope this post can encourage people to learn more about Baril's work as well as all the people and groups doing anti-suicidist work.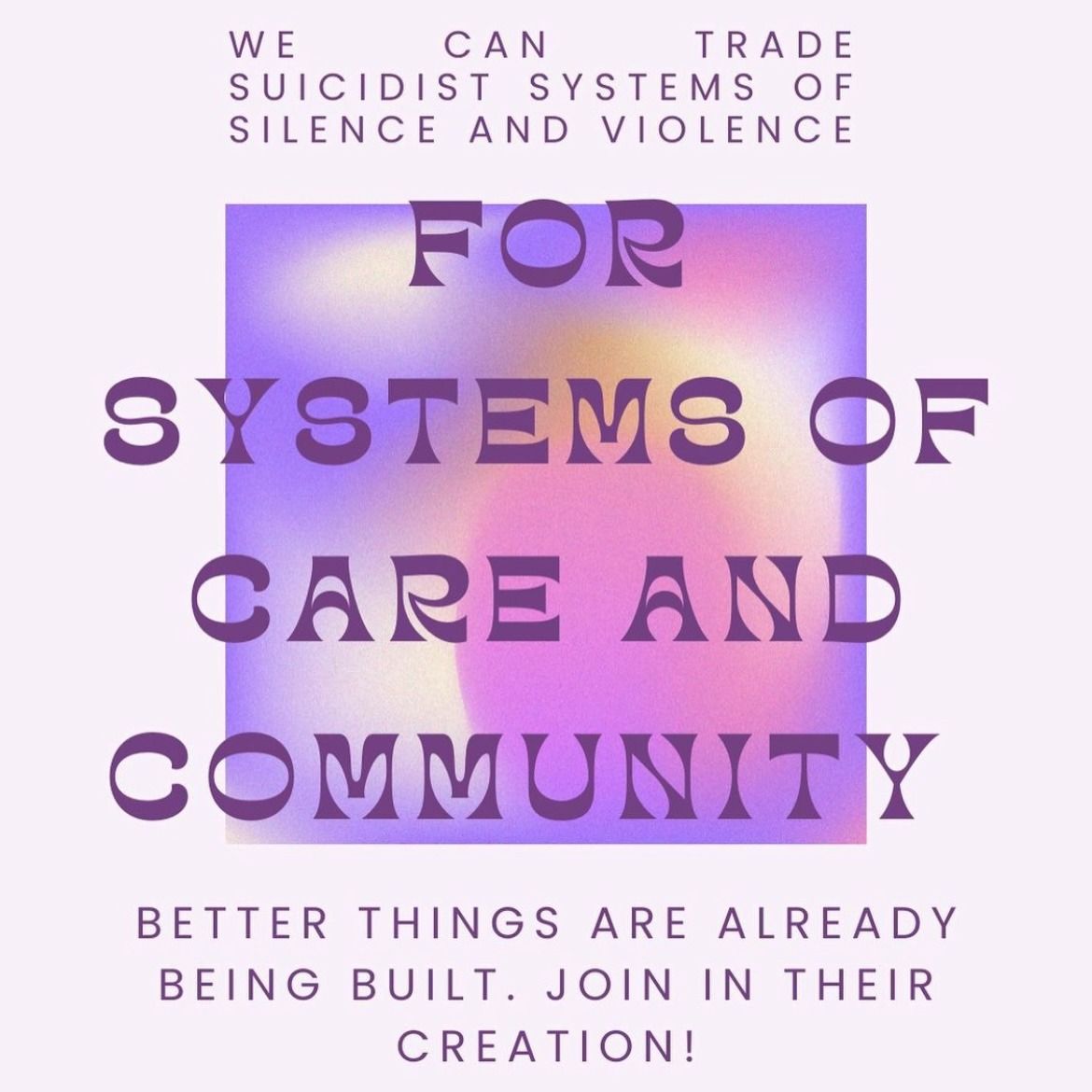 We can trade suicidist systems of silence and violence
for systems of care and community.
Better things are already being built.
Join in their creation!
---
Although I tell everyone to read Alexandre Baril's article "Suicidism: A new theoretical framework to conceptualize suicide from an anti-oppressive perspective" (free to read here, on the Disability Studies Quarterly website), I didn't want to oversimplify his very nuanced article, which is basically an inevitability [on instagram, where these words were first published].
So *Damiano from Måneskin voice* I'm begging, begging you to read Baril's article, especially if you disagree with or want a longer explanation for anything mentioned in the post — he does a great job explaining everything with detailed evidence.
⠀
I have purposefully left out key points in Baril's article, namely, his proposed harm reduction approach to suicide — not because I disagree with it or think it's not valuable, but because it's a fair amount more radical than most people are on board with, and I simply don't want to argue about it with anyone who hasn't read the article. But definitely check out Baril's explanation if you're interested in learning more!
⠀
To me, the most important idea in Baril's article is this:
"We should conceptualize the passage from life to death as a social and relational passage, and that this relationality and sociality should be denied to no one, regardless of how they die."
Suicidism has normalized and naturalized the way we deny sociality to suicidal people in both their lives and deaths, but it doesn't have to be this way.
It is possible to resist and dismantle cruel systems and to care for each other in better ways.
---
mariela (she/her) is a Mad liberationist & perpetual student of Mad studies. Follow her on instagram here.
---
ending notes, by 水仙 shuixian:
The publication of this article only happens to coincide with September, which is considered "Suicide Prevention Awareness Month" in the so-called united states of ameriKKKa.
" Mental health / suicide prevention "awareness" months / days " is a concept that I personally consider to be completely performative and pointless without total systemic destruction of saneism, ableism, the psychiatric/medical-industrial complex, the mental health/therapy-industrial complex, the nonprofit-industrial complex — and capitalism and ALL oppressions.
Please be aware that in the U.S., calling The National Suicide Prevention Hotline, or 988, can lead to nonconsensual coercive police calls, police violence and/or murder, and involuntary treatment or psychiatric incarceration. Black, Indigenous, other racialized peoples, Mad, Disabled, trans, queer, Unhoused, & poor (& none of the above is mutually exclusive, at ALL. that is literally what INTERSECTIONALITY means) people are at a much higher risk of receiving violence or being murdered by the police, especially if they are exhibiting what is perceived as non-"normative" behaviour.

"988 currently works via 911 to geolocate callers' locations to send emergency services. They do not currently geolocate callers themselves, but they have and made a federal request to geolocate callers themselves. If you call 988, you can still be geolocated through their partnership with 911.

Currently, calling 988 does not mean you'll automatically be geolocated and experience a non-consensual intervention, but it is possible. We hope publicly funded infrastructure like 988 increases transparency with callers and will choose to fund community-based supports that work without police and forced hospitalizations."

— Trans Lifeline
---
please share, & follow us on ig!